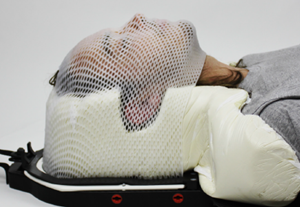 Masks and Sheets
All CDR LT-Thermoplastics are manufactured using the most current and advanced processes available, insuring optimal quality with respect to stretch, working time and ultimate patient comfort. All CDR LT-Thermoplastic are dry heat compatible. Ask your representative about our Dry Heat convection oven options.
Hybrid open face mask
Engineered for ultimate patient comfort. This mask never covers the patients face, making it especially ideal for claustrophobic patients. The CDR Hybrid Open Immobilization Mask is proven for all 3D surface monitoring systems.