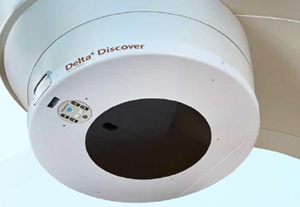 An elegant detector that fits perfectly in the Gantry, the Delta4 Discover accurately monitors the dose that is delivered to the patient. It automatically compares the delivered dose with the planned dose and independently verifies: Monitor Units, MLC leaf position, Gantry and Collimator Angle and Patient position.
The Ultra-thin Delta4 Discover detector uniquely gives you:
Maintained clearance.
Beam transparency: The attenuation is less than 1%.
Minimal skin dose: less than 1% additional skin dose.
Highest resolution: Verify the MLC leaf position with sub-millimeter accuracy.
The system is easy to implement and doesn't require recommissioning.